Artist Statement
My work is a study of feminine strength and beauty, experienced through the bond of friendship. My journey as an artist has always focused on just a handful of women, friends with whom I've grown and shared adventures, good times and bad, tears and laughter, dreams and disappointments. I find inspiration in the intimacy of close friendship. My paintings are more than compositions, they are revered memories, each incredibly dear to me. I am fascinated by deep inner strength, tempered by suffering and self-reliance. This is something so beautiful to me that I absolutely need to express it on canvas, to share it with the world. I paint a smile, a tear, a look…knowing that underneath exists an entire universe. It's a glimpse of that universe that I try to share with my work, striving to find something more than myself; better. In delving into my own perceptions of the feminine struggle and ideals, I find a subject eternal in its mysteries, its nobility, its fallibility and resilience, and its capacity for love.
The Happy Witch
I painted this piece purely for my own personal joy and love of Halloween. I poured my muse a goblet of spirits, put her in a black dress and witch's hat, and set out my pumpkins! The rest of the painting is pulled from that special place where Halloween lives in my imagination, honoring, of course, the quintessential Halloween color scheme of orange, green, and purple. My witchy muse gave me endless expressions to choose from, but I had to go with her laughter. It just amuses me that this witch finds such delight in her season, delight that mirrors my own!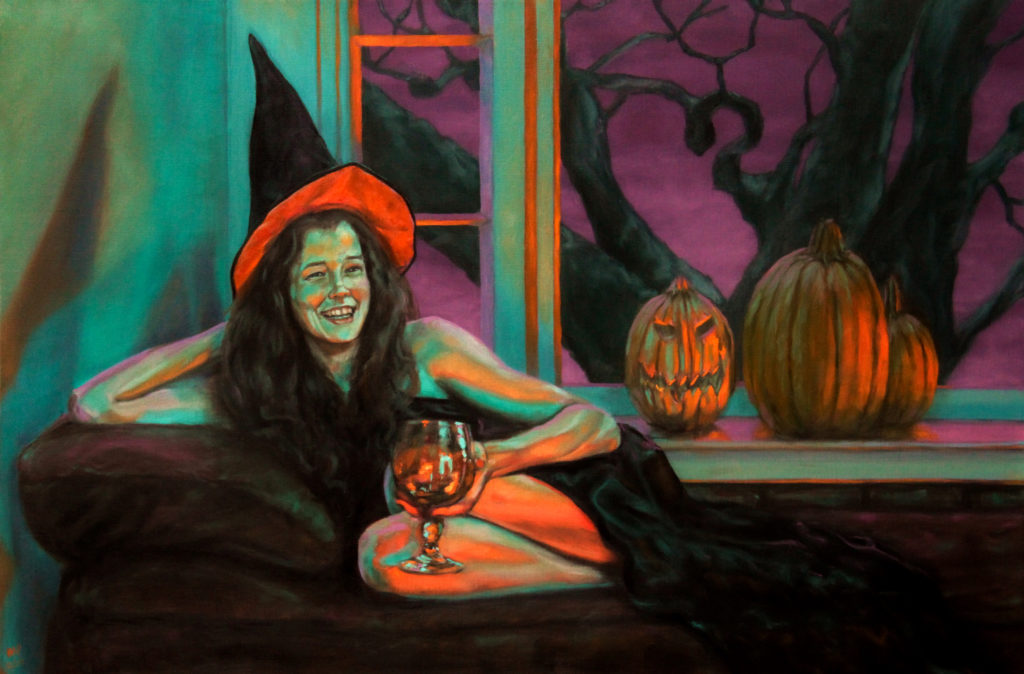 The Watcher on the Wall
I love the creepiness of this work. At first look, the figure in the leather chair seems the obvious focus, but as the eye wanders the composition, one is inescapably drawn to the true focus of the piece – the figure in the painting that hangs on the wall, the one that is actually engaged with the viewer.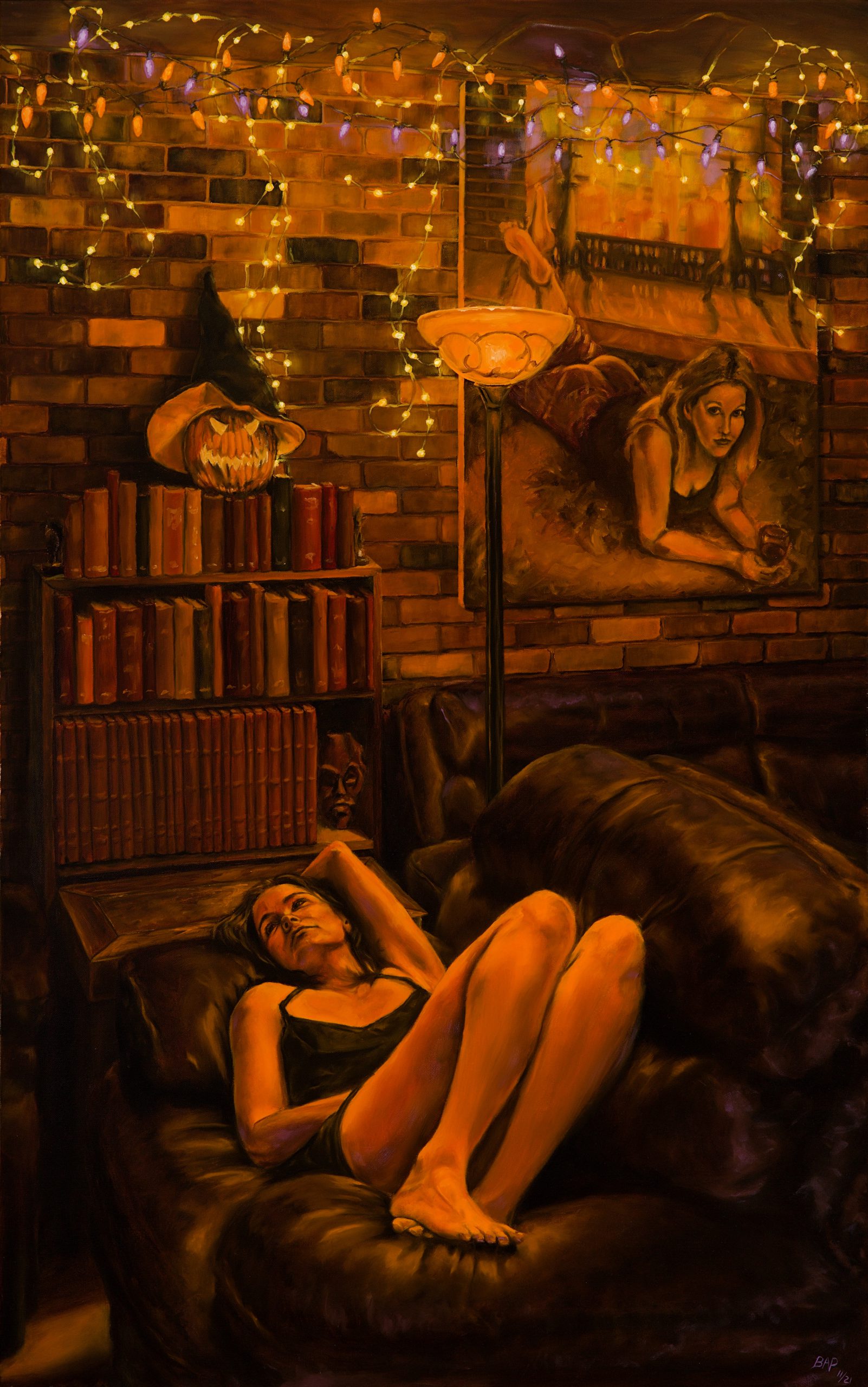 If you would like to know more about Benji and his paintings check out his contact info below:
benjialexanderpalus.com
ba_palus@yahoo.com
(504) 598-9284
For more articles and features check out the Cavalletto Home Page and the Cavalletto Facebook Page!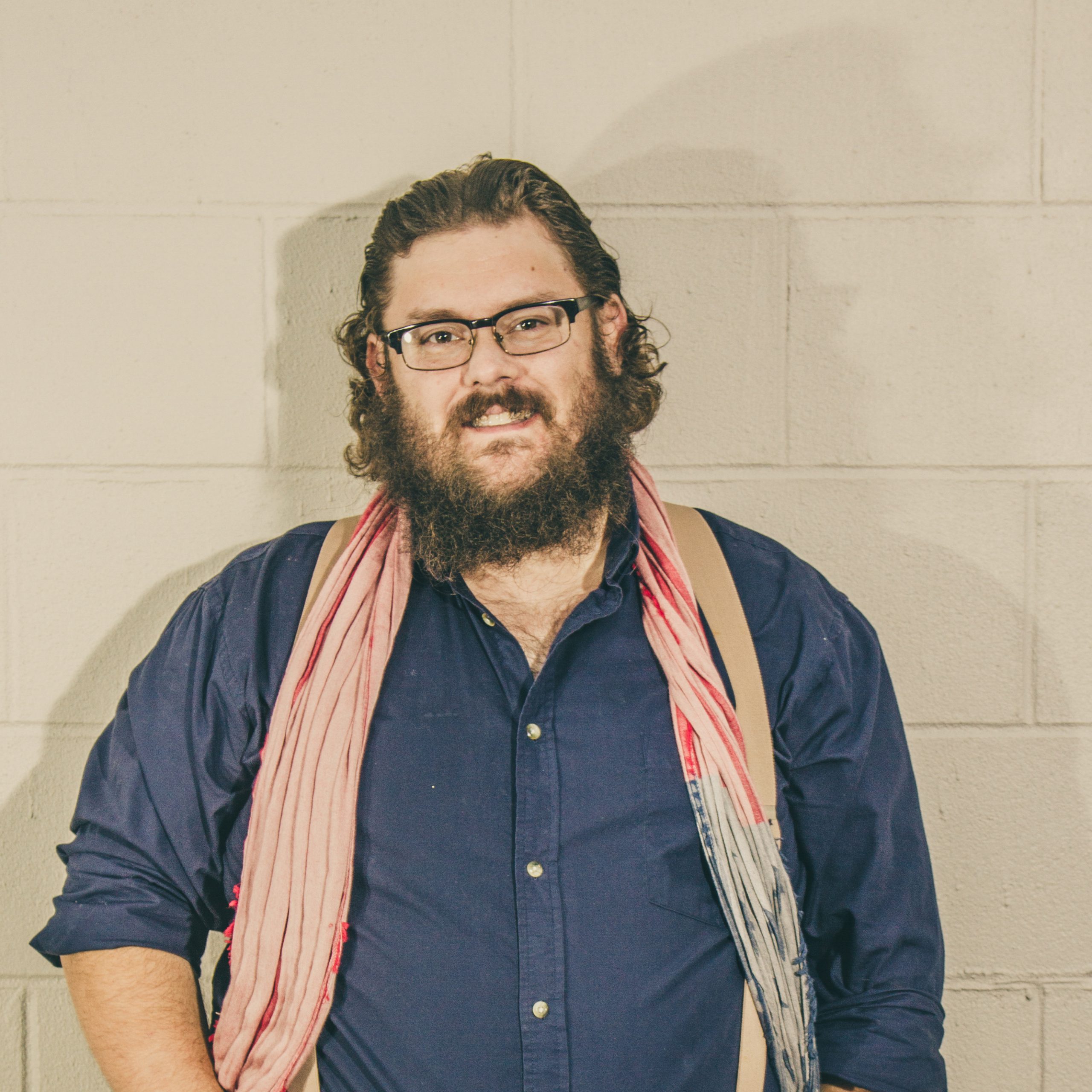 Editor and Chief, Cavalletto Magazine
Owner And Operator of Burton Media Group
Christopher Burton is a acclaimed Photographer and has appeared in many shows, galleries, and publications over the years.